We are your
Single Source Automation Expert!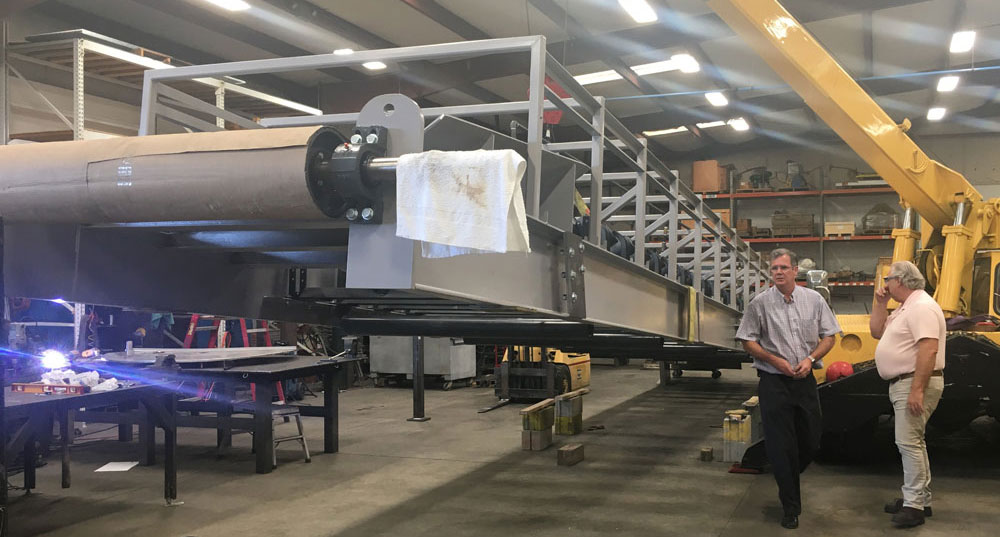 Our team is diverse, talented and experienced in all things machinery and automation.
Collectively, our Leadership Team has over 120 years of direct experience working in all facets of manufacturing, machining, rigging, machinery moving, installation, mechanical services and electrical services.
We have over 30 years of experience in all aspects of the automation industry including system design, installation and integration. Our experience and expertise allow us to provide a unique perspective to your business. We consider all aspects of your facility from space and time requirements, labor input and desired results, to create an innovative, cost effective, highly efficient solution to optimize your operation. We are proud of your unique perspective, so we put our money where our mouth is and invite you to take advantage of our free, no obligation Efficiency Audit.
We handle all of our manufacturing in our own 25,000 square foot facility in Fletcher, NC. In addition to housing our machinery and offices, this building gives us additional space which allows for additional high-value functions:
receive any outside components to keep extra deliveries from interrupting your business
provide short-term storage to minimize your downtime
recreate specific scenarios to optimize design
pre-assemble and test systems – FAT(Factory Acceptance Test)
We also have an additional six acres of secured lot space, including some covered space. This increases our ability to go above and beyond to work with you and provide additional short-term and long-term storage to further optimize your project timing and minimize space requirements in your facility.
Our location in Fletcher, NC is ideal for both regional and national work.
As NC is in the center of the eastern seaboard, nearly half of the US lies within a 500-mile radius of the state.
Same-day access to most major eastern US markets.
Seven major interstate highways intersect in NC – I-26, I-40, I-73, I-74, I-77, I-85 and I-95.
In Fletcher, we are four miles from the Asheville Regional Airport and within 100 miles of Charlotte Douglas International Airport.
We are within 100 miles of dozens of prestigious universities that provide a stable, educated and experienced workforce from which to draw.
Customer service is the cornerstone of our business and one of the primary reasons for our success.
We understand that you need…

Increased:  Throughput • Quality • Consistency • Energy Efficiency • Safety…
And Decreased:  Labor Costs • Design Costs • Downtime
You have a dedicated team from the beginning, which tackles these demands head-on and creates the optimal solution for your group, your product and your company. We go the extra mile to complete projects on your timeframe which may be over a long weekend, after hours or during a working operation.
You have direct access to our team 24 hours per day, 7 days per week.
Congruent Concepts & Solutions
 is
Your Single Source Automation Expert.
We have worked diligently to assemble a diverse and talented team with the experience and ingenuity to design solutions across a variety of industries. Though we have handled projects and touched almost any manufacturing industry possible, we have had significant success in the following areas:
Automotive
Industrial
Logistics
Medical
Warehousing & Distribution
"Congruent CS responded to our emergency call and got us running again. They saved us a lot of money. Thank you."
"CCS did a great job unloading and installing our injection molding machines. They followed the safety rules and cleaned up after they were finished."
"Excellent rigging and moving company. I would recommend them anytime."
"We will use the guys whenever they are available or wait until the can get us on the schedule if possible. They are sticklers for safety and attention to detail."
"Great job by employees. Looks great & completed ahead of schedule."
"Excellent service provided."
"Couldn't imagine our store looking any better. These guys kicked rear! I'd recommend to anyone."
"Consistently meets/exceeds expectations. Wonderful work. Looking forward to our next project."
"Andrew and Andy did an awesome job. It's a pleasure working with Congruent."
"Great job. Awesome group of workers. Very professional. Great work ethic."
"Great job! A lot of hard work went into making this project a success."
We work with some of the finest companies in the industry. Once we design a client solution, we evaluate and choose the best provider and the best product to optimally support our client. We work with several quality platforms and providers, including the following:
Motion Industries
Rexel Automation
Rockwell Automation
Ryson Spirals
SMC Pneumatics
As we continue to grow and add more projects, we also continue to work directly with more vendors. If you are interested in adding your company to our repertoire, please contact our Purchasing Department at 828-676-2800,ext 204.