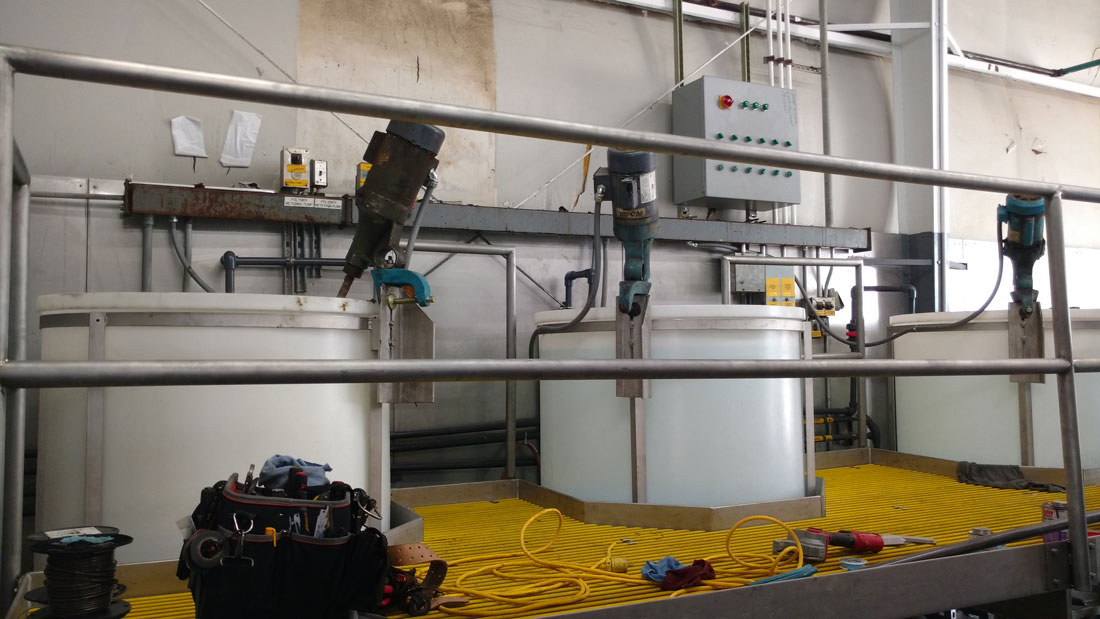 Industrial Material Manufacturing Company
Challenges
Customer needed an automated method to change the chemicals in a manufacturing process used to treat their product.
We needed a two-tank system that included:
No cross-contamination of chemicals.
One of the solutions needed to be kept warm.
Customer needed a way to store new incoming pallet shipping containers of chemicals for on-demand usage to automatically refill the tanks.
Goal
Provide a two-tank solution integrated with PLC controls, but separated so either chemical could be used and only pumped into the appropriate tank.
Design the controls so the tank levels stay constant as demand changes, and keep warm as needed.
Solutions
Built two stainless tanks, each with its own pump and drain-back system.
Safety – Designed the controls so that when one chemical was in use, the other tank and pump could not be turned on, so as to avoid cross contamination.
Designed the system so the amount of chemicals in the treatment trough could be back-flushed into the original tanks, stored, kept warm ready to be pumped out on demand.
Provided both tanks with same features including heater element location and level controls so that, if needed, a tank could be changed over to a third chemical while maintaining use of one of the two original chemicals, to avoid downtime on chemical product changeovers.
Successes
We manufactured the new tanks with their custom specs in our facility.
We tested the process operation in our facility.
We removed the old tanks and integrated the new tanks in a short timeframe.
The project was completed on time and on budget.
The customer is now able to change chemical treatments in less than an hour, when the previous process took an entire shift and many gallons of expensive chemicals.
Customer is able to use the same treatment trough because the drain-back system keeps both chemicals separated.